Vegan Agrivilla I Pini Tuscany
Nestled in the abundant hills of San Gimignano in Tuscany, Vegan Agrivilla I Pini has provided shelter to pilgrims along the Via Francigena for hundreds of years. Like our ancestors, we sustainably steward the land with respect and reciprocity – a responsibility that we likewise extend to our guests. Our 11 elegant lodgings are surrounded by rolling vineyards, olive groves and permaculture gardens.
From the ground up, our property is 100% committed to environmental consciousness. From our seasonal, vegan cuisine to the terracotta tiles upon which we walk, we seek to provide our guests with an experience that intimately represents the Tuscan bioregion and culture. Here, like so many travellers before, you will find sanctuary and connect with the intrinsic power of nature to grow, thrive and heal.
Englisch
Deutsch
Italienisch
Vegan
Winemaker
Yogateacher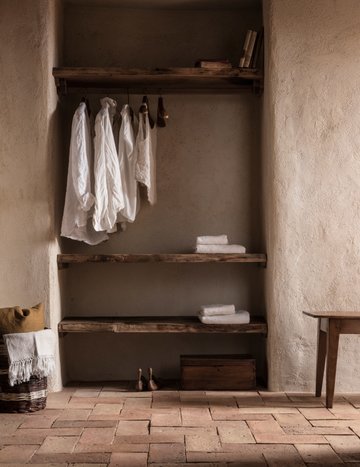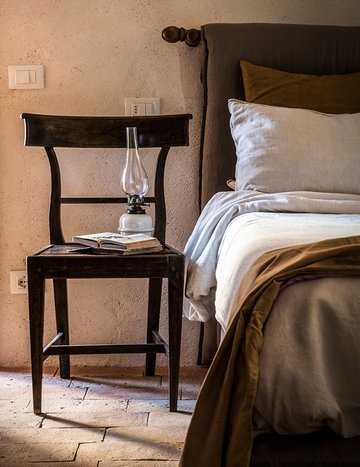 Our Rooms and Suites
When we renovated Vegan Agrivilla I Pini in 2018 to a vegan hotel and organic farmhouse, we wanted to create the most energy efficient and sustainable environment possible using locally sourced materials. Our insulating walls are made with a mixture of clay, hemp and rice husks. We are passionate about high quality, handmade items – from the refurbished vintage furniture to the handmade terracotta tiles to the hand-sewn linens. Our interiors are beautifully rustic, reflecting the elegant and minimalist aesthetic that we are known for. Allow your body, mind and soul to reset and return to its essence.
Englisch
Deutsch
Italienisch
Vegan
Winemaker
Yogateacher
Slow Living Hideaway in Tuscany, Italy
Here you find tranquillity, elegance and the luxury of simplicity. When you enter the Agrivilla, you are immediately greeted by the deep, sweet smells of our wholesome plant-based cuisine. You may peruse the library full of books, lounge by the saltwater pool, soak in the nourishing rays of the sun and practice yoga in the silence of nature while the Italian medieval city of San Gimignano gleams, just a glance away. Our elegant and meditative atmosphere allows guests to rest, replenish and return home to their best selves.
Englisch
Deutsch
Italienisch
Vegan
Winemaker
Yogateacher
Azienda Agricola I Pini - Organic Agriculture
Our Mediterranean gardens are a place for retreat and rejuvenation. You will find olive and fruit trees, heirloom varieties of vegetables, grape vines and medicinal herbs – everything grown on a land teeming with life. The intense and natural flavours of our vegan wines and olive oils provoke a sensation that takes us back to our deepest roots.
Englisch
Deutsch
Italienisch
Vegan
Winemaker
Yogateacher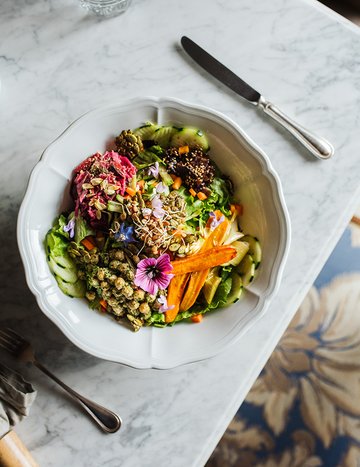 Plant-Based Farm Restaurant Tuscany
Our plant based vegan farm kitchen features a new, intriguing form of Tuscan cuisine: vegan, carefree and simple. We are truly Seed to Table–our ingredients are sourced mainly from our organic garden and prepared by creative Chefs who transform every ingredient at the peak of its season. The end result is pure, nutritional and uncomplicated, yet bursting with flavour and inspiration.
Englisch
Deutsch
Italienisch
Vegan
Winemaker
Yogateacher
Surroundings
Vegan Agrivilla I Pini - a plant-based Hotel and Agriturismo near San Gimignano is a quiet hillside refuge for your vegan holidays in Tuscany surrounded by natural and cultural wonders of Italy. The location of San Gimignano, the so called 'medieval Manhattan' is very strategic. Right in the centre of Tuscany. You may get lost in the museums of Florence and Siena, hike in the sunny Tuscan hills or relax at the thermal baths of our region.
Englisch
Deutsch
Italienisch
Vegan
Winemaker
Yogateacher