News
Let's Stay in Touch
Like Mother Nature, life at the vegan Agrivilla i pini is constantly changing. Over the years our guests have become like family to us and it is very important for us to stay in touch! Even if you are not physically with us, you can reminisce on your time at the Agrivilla i pini by keeping up to date on our offers, events and celebrations.
Englisch
Deutsch
Italienisch
Vegan
Winemaker
Yogateacher
Comfort & Hospitality: Lunch at i pini
At vegan Agrivilla i pini our guests' comfort and relaxation is our utmost priority. We are expanding our hospitality offer to include a light, daily lunch service. Our plant-based kitchen will provide a menu of simple dishes made with pure, genuine ingredients. Dishes change daily based on what fresh, local ingredients are available. Our healthy and delicious lunches can be enjoyed with a glass of local wine, beer or kombucha. Whether relaxing in the shade on the terrace or by the pool, lunch at plant-based restaurant i pini is a lovely time.
Englisch
Deutsch
Italienisch
Vegan
Winemaker
Yogateacher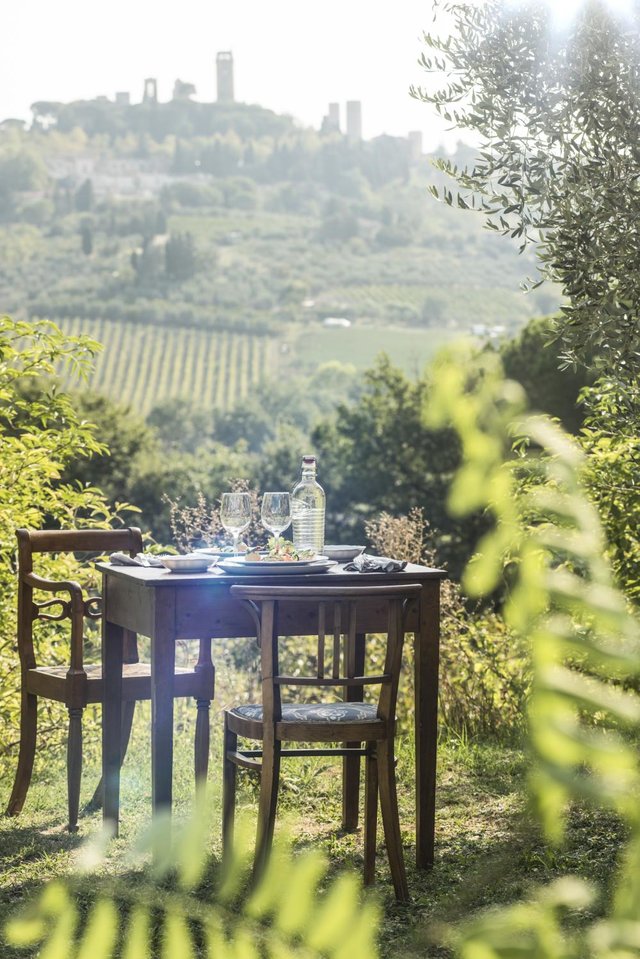 Hosting Retreats & Workshops at the vegan Agrivilla i pini Toskana
The vegan Agrivilla i pini Toskana is an ideal, serene location for workshops and retreats. Our awe-inspiring landscape, plant-based cuisine and natural hiking trails create the perfect setting for a mindful experience. Our indoor workshop space is well suited to all kinds of group events. We are flexible and open to accommodating your requests to create a tailor-made experience. The secluded environment at i pini provides guests a unique, private sanctuary. We have eleven rooms, hosting a maximum of twenty-two guests. Please get in touch with us for inquiries, we are thrilled to collaborate!
Englisch
Deutsch
Italienisch
Vegan
Winemaker
Yogateacher
Creating Space
Here the activities of daily life take place amongst the beauty of the natural surroundings and all its quiet rhythms. Outside in the fresh air we feel at home and are able to connect and immerse our senses in nature. The vegan Agrivilla i pini is a protected, safe environment in which you may take full advantage of the abundance of wide, open spaces. There are many hidden gems to be found amongst the orchards, gardens and vineyards of i pini. Our multiple nature trails explore the seven acres of natural bliss. As you explore the outdoors, you will marvel in the stunning vistas, colours and aromas of the landscape. At vegan farmhouse i pini you are free to create space.
Englisch
Deutsch
Italienisch
Vegan
Winemaker
Yogateacher
New in 2021: The Veg Lab
This season we are unveiling an exciting new space at the vegan Agrivilla i pini: the Veg Lab. The Veg Lab is a multi-use indoor studio and showroom intended to host creative and cultural exchange. This shared space features a library, creative workshop area and showroom to shop our homemade vegan wines, olive oils, herbal teas and marmalades. We love to host curious and adventurous travellers that are looking to awaken their creative spirit and meet like-minded people. We are excited to offer the Veg Lab to host a workshop, share your passions for sustainability and vegan cuisine and peruse the library.
Englisch
Deutsch
Italienisch
Vegan
Winemaker
Yogateacher